NOW's "Respond and Replace" for Critical Industries in Indo-Pacific
7 November 2023
Makati City
The NOW Group has announced the launch of three new model solutions aimed at protecting critical infrastructure within key industries that are currently vulnerable. These ongoing solutions are designed to address and mitigate the widespread and unchecked security breaches affecting physical and digital infrastructures.
NOW Corp and NOW Telecom are jointly implementing a secure and seamless integration of a digital bank's value chain that capitalizes on office and remote workforces, a combined human-machine cybersecurity prevention program for a large enterprise, and just recently, a technology upgrade contract from an American BPO that require complete sensor and video surveillance solutions to monitor the movement of data, objects, and people connected to its U.S. command and control headquarters — all using only trusted equipment as defined by the U.S. government.
The "Respond and Replace" program is NOW group's answer to the urgent call of enterprises and governments belonging to the free world whose offices and factories are located in the Indo-Pacific region, requiring complete end-to-end solutions to confront threats to physical and digital critical infrastructures.
NOW recently launched "TODAY," an acronym for "Technologies on Demand Assist You," specifically tasked with managing the Respond and Replace program. A Cyber Threat Assessment is designed to identify and address vulnerabilities in both private and public sector organizations. A set of comprehensive solutions follow this to counteract and protect against cyber threats, given NOW's strategic alliances with global tech giants such as CISCO, Nokia, Fortinet, Mangata, OneWeb, Celona, and other technology partners in collaboration with the Philippine Military, the Cybercrime Investigation Coordinating Center (CICC), Cagayan Economic Zone Authority (CEZA), UnionBank of the Philippines, and other organizations. In November last year, U.S. Vice President Kamala Harris announced that the U.S. government intends to partner with NOW Telecom.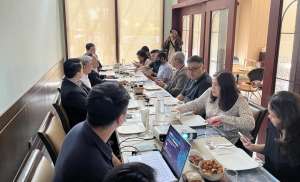 Rene Rosales, President of NOW Telecom, articulates the importance of this initiative: "Deploying untrusted hardware and software including sensors and devices without rigorous vetting can open the door for unauthorized surveillance on both sensitive enterprise data and individuals, effectively turning what should be a protective measure into an unintended self-inflicted breach. With the recent breaches with some of our national government agencies, we must take action immediately."
This strategic program of NOW brings together global tech and telecom giants aligned with the Trusted Network initiative to work only with trusted vendors in building and maintaining telecommunications and infrastructure, aiming to minimize vulnerabilities that malign 2 actors could exploit. Globally, around 60 nations are part of the Trusted Network initiative, including the U.S., United Kingdom, South Korea, Japan, Australia, and India; around 180 telecom companies including Telstra of Australia, SK Telecom & K.T. of South Korea, Reliance Jio of India, Rakuten and Softbank of Japan, and Telus & Bell of Canada, and global technology partners like CISCO, Nokia, Ericsson, Samsung – all forging a solid alliance committed to securing their data privacy and national security.
NOW's Respond and Replace program will be an ecosystem of trusted global technology partners. This ecosystem may include cloud-based enterprise endpoint devices, sensors, handheld devices, and video security systems. These partners combine plug-and-play technologies with intelligent, cloud-based architecture to deliver high-quality voice, data, and video surveillance solutions that are user-friendly, efficient, and easy to manage.
Henry Andrews Abes, President & CEO of NOW Corp, emphasizes the significance of the "Respond and Replace" program: "We understand the critical nature of highly sensitive personal information, and this program protects the data integral to the functioning and trust of key industries like finance, healthcare, government services, and utility providers." Abes added, "Our initiative comes at a time when many critical sectors have untrusted vendors either within their network or their facilities, posing potential threats. The Respond and Replace program addresses this issue head-on."
NOW welcomes government entities and enterprises to participate in this groundbreaking initiative and urges them to contact NOW immediately. The program kicks off with a Cyber Threat Assessment Program (CTAP). CTAP is a transformative initiative designed by NOW and its trusted partners to help enterprises have an in-depth analysis of their I.T. infrastructure, discover areas of vulnerabilities, and empower them to fortify against these potential malign actors.
In just under a week, the enterprise will receive a detailed report outlining its network's strengths and pinpointing its weaknesses hassle-free. This assessment comes at no cost to the enterprise. Interested critical enterprises can visit www.todaybynow.com. Critical infrastructures undergoing this program and successfully implementing measures to protect against malign actors join the ranks of global firms adhering to the safety of digital standards.
Companies operating in critical industries that have security infrastructure components from untrusted suppliers in the area of cybersecurity, privacy and monitoring, data centers, and connectivity – can now seamlessly book the "Respond and Replace" program. This streamlined platform ensures that the right solutions and equipment from reputable providers are promptly delivered to fortify their critical infrastructure.
Companies looking to bolster their security infrastructure and protect critical assets by replacing untrusted equipment are encouraged to explore NOW Corporation's "Respond and Replace" program.