Now Telecom Co. Inc. has signed a grant agreement with US Trade and Development Agency (USTDA) to support the Velarde-led telecom firm's deployment of a nationwide stand-alone 5G mobile and fixed wireless network in the Philippines.
USTDA has agreed to provide a grant on behalf of NOW Telecom to fund a technical assistance (TA) and 5G pilot network launch to support the company's 5G deployment.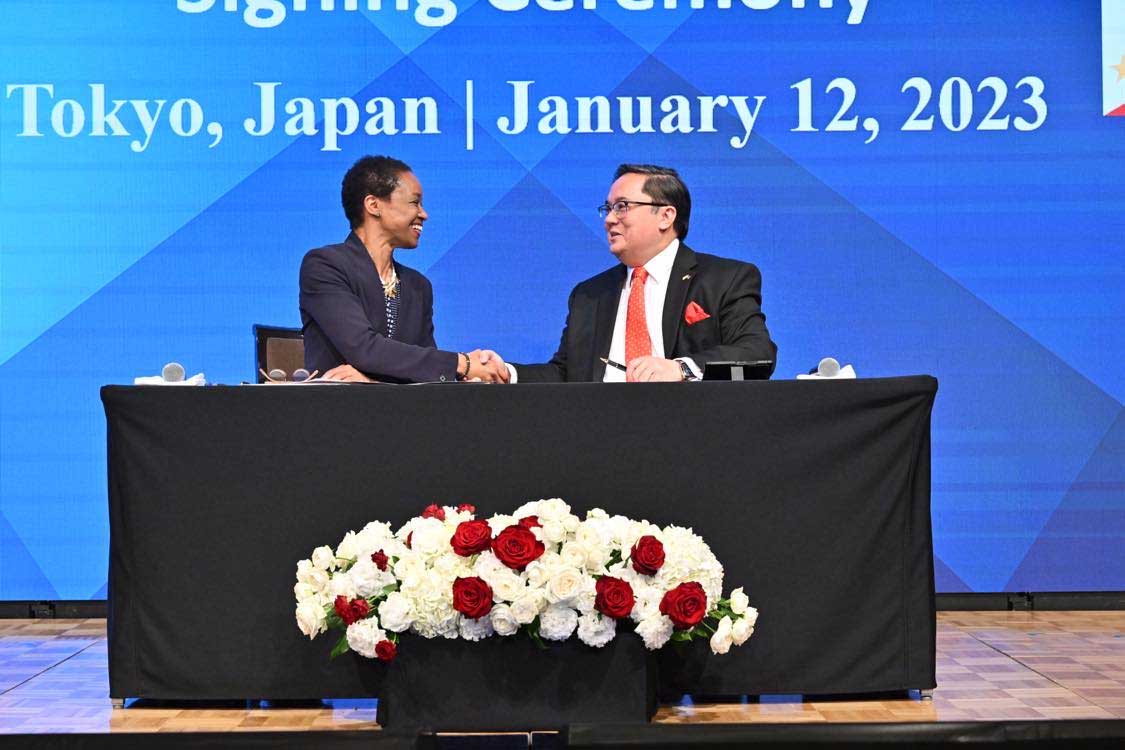 USTDA Director Enoh Ebong left and Now Telecoms CEO Mel Velarde shake hands after the signing of the LOI
The Letter of Intent (LO) I was signed by USTDA Director Enoh T. Ebong along with NOW Telecom Chairman and Chief Executive Officer Mel Velasco Velarde, during a ceremony at the Annual IPBF co-hosted by the Governments of Japan and the United States, the U.S. Chamber of Commerce, and the US-ASEAN Business Council on January 12. The IPBF is a business forum aimed to promote trade, investment and economic cooperation between the United States and Indo-Pacific nations including the Philippines.
"Our goal is to deliver a clean and secure 5G network that will help achieve social and financial mobility, reduce inequality, improve health and education, and spur economic growth for the Filipino people," Velarde said.
"Our partnership with USTDA will help us achieve this important mission," he added.
The TA will provide NOW Telecom with the necessary analysis, designs and plans for phased implementation of the project and conduct a 5G pilot network at multiple sites in Metro Manila to validate network performance, test 5G use cases, and provide data to inform larger scale deployment.
In addition, the TA includes the examination of available various financing schemes including grant, equity, and debt financing from potential donors, investors and financial institutions, and an assessment of the level of interest of funding organizations, the amount and terms of potential financing, and any specific financial requirements for the full-scale implementation of the project.
The USTDA funding for TA and a pilot project will support NOW Telecom's deployment of a 5G network to help meet growing household and industry demand for reliable and secure digital services in the Philippines.
The TA will be undertaken by Bell Labs Consulting represented by Nokia of America Corp. as the prime contractor, a company registered in the US that is engaged in research and scientific development in the telecommunications sector.
The objective of the TA and 5G pilot launch is to support Now Telecom's plan to launch a 5G stand-alone network in the Philippines that will contribute to the overall improvement of broadband connectivity in the country and increase competition in the Filipino market.
NowTel's 5G pilot launch would use network and radio equipment, core network, and software developed and supplied by Nokia Americas and its subsidiaries.