Silicon Valley-based firm CELONA and NOW forges partnership to advance Private Network Solutions in the Philippines
Campbell, CA & Manila, Philippines
17 August 2023
Celona, Inc., a Silicon Valley-based leading innovator of enterprise private wireless systems, NOW Corporation, and NOW Telecom Company, Inc. have signed a Memorandum of Understanding (MoU) to deliver next generation private wireless 5G LAN solutions to enterprises throughout the Philippines.
Under the MOU, the parties agree to pursue, collaborate, and focus on the expansion of NOW's current broadband telecom network by rolling out turnkey stand-alone (SA) private wireless networks specifically engineered for the enterprise market.
The private wireless LAN solutions will benefit the enterprise market looking to quickly deploy a private wireless network that is built on cloud-first architecture, utilizing plug-and-play technology, self-organizing wireless, and sophisticated quality of service features that ensure reliable and deterministic performance. NOW will leverage on Celona's products and technology to help businesses expedite bringing private wireless network applications to market, streamlining costs, mitigating operational challenges, simplifying the customer experience, and enabling the ability to easily scale their connectivity as demands change. NOW will utilize Celona's complete end-to-end portfolio of new NR products as part of its private wireless managed service offering.
Earlier this year, Celona unveiled the industry's first all-inclusive collection of indoor and outdoor 5G NR products for the U.S. and global market that support a wide range of international 5G NR bands.
The Celona-NOW partnership will target key vertical markets such as manufacturing, oil and natural gas, logistics and transportation ports looking to automate business processes, improve productivity and streamline operations.
"We view private wireless as the next technology to revolutionize the enterprise as digital transformation initiatives drive business transformation," said Henry Andrews Abes, NOW Corp President and CEO. This initiative is in support of NOW's Unified Connectivity service portfolio which includes broadband delivered via its NOW Fiber Air, satellite connectivity, and SD-WAN solutions.
"As a strategic offshore hub, the Philippines represents a massive opportunity to deliver innovative private wireless solutions at scale to what is effectively an untapped market. With a best-in-class private wireless network purposely architected for the enterprise, Celona is an ideal partner to help us capitalize on this opportunity," Abes concluded.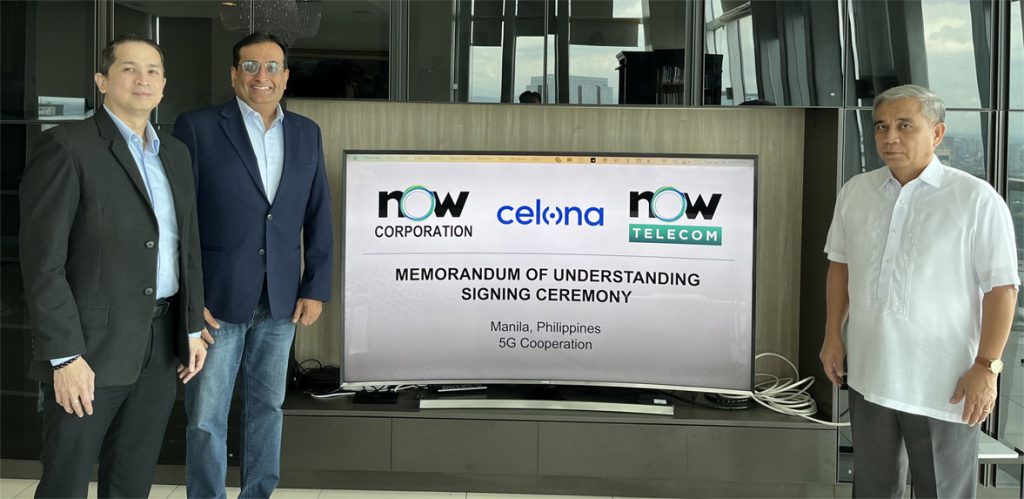 In photo: NOW Corp President and CEO Henry Abes, CELONA Vice President for Global Carrier Operations Sanjeet Pandit, and NOW Telecom President and COO Rene Rosales
For his part, NOW Telecom's President and COO, Rene L. Rosales, said that this initiative will contribute to the Industrial 4.0 of the Philippine telco landscape.
"We're thrilled to support NOW in realizing the full vision for private networks within the enterprise to help usher in a new generation of business and industrial applications," said Rajeev Shah, Co-Founder and CEO of Celona. "We're confident that our market-leading products and technology will play a crucial role in setting the right conditions for private networks within the Philippine market to modernize the operational efficiency and productivity of NOWs enterprise customers."