Press Release
3 August 2023
Makati City, Philippines — A landmark agreement has been reached between the Cagayan Economic Zone Authority (CEZA) and the NOW Group in a trailblazing project to advance the Philippines' telecommunications and digital infrastructure. The initiative, embodied in the Memorandum of Agreement (MoU) signed by the Parties, is designed to support the current administration's ambitious vision of "The Digital Philippines."
The MoU paves the way for NOW Corp and NOW Telecom to cooperate with CEZA  in designing a world-class and Communications Critical Infrastructure that includes  the provisioning of unified connectivity, software systems and services that would  operate in the province of Cagayan and CEZA locators and people. As an important  initial step in this direction, it is hoped that the digital infrastructure system and design to be presented and proposed to CEZA after the technical studies are completed will form the basis for moving forward with the proposed Project.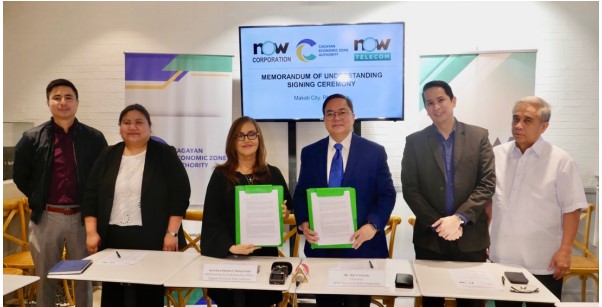 Ceremonial Signing of the Memorandum of Understanding, Maka7 City
The Hon. Secretary Katrina Ponce Enrile, CEZA Administrator and CEO and Mel V. Velarde, Chairman of the
NOW Group.
Together with Carlos Miguel Hernandez, Chief of Staff, and Atty Marichelle de Vera, Deputy Administrator for Operations of CEZA, Henry
Andrews Abes, President & CEO of NOW Corp., and Rene L. Rosales, President and COO of NOW Telecom
The proposed Project intends to deploy fixed wired, fixed wireless, terrestrial, satellite, and other delivery systems to CEZA ensuring reliable and quality broadband and other ICT services to CEZA's locators. CEZA's strategic positioning and critical infrastructure underscore its profound significance. Its vicinity to two Philippine-American military bases, integral to the Enhanced Defense Cooperation Agreement (EDCA) between the United States and the Philippines, amplifies its global security influence. Furthermore, its proximity to Taiwan positions CEZA as a potential extension for Taiwan's industrial zones, underscoring its commercial and
strategic reach.
CEZA Administrator Secretary Katrina Ponce Enrile said "CEZA welcomes this initiative and interest of NOW Corp. and NOW Telecom in pursuing this transformative project which underpins our commitment to national development. By attracting investments and fostering innovation, we are charting a course toward a digital future. This complements our efforts to develop CEZA as a critical hub of economic activity  and technological progress not just for northern Luzon but for the entire country as well. By tapping NOW, a U.S. Government partner, CEZA aims to ensure a clean, reliable and secured information infrastructure to serve the Ecozone and the people of Cagayan, and to contribute as well to the advancement of EDCA's goals.
Mel V. Velarde, Chairman of the NOW Group, stated, "Our partnership with CEZA is a demonstration of our commitment to support the current administration's Digital Philippines. As we advance in this era of digital transformation, we prioritize reducing the digital divide region by region. Our strategic intent is to leverage the power of technology and telecom, presenting a growth potential that can captivate international investors and locators.
To recall, NOW was recognized by the recent visit of U.S. Vice-President Kamala Harris as its partner for the deployment of a secured 5G mobile network and NBN. The United States Government, acting through the U.S. Trade and Development Agency (USTDA) provided a grant to NOW. The Project of NOW with the US Government supports the Partnership for Global Infrastructure Investment (PGII), further underscoring the United States' commitment to a free and secure Indo-Pacific region.
"Initiatives like this reaffirm the positive trajectory of the Philippines' digital revolution," added Secretary Enrile. "We look forward to a bright future with the continued collaboration with the private sector."
The signing of the Memorandum of Understanding (MOU) between the parties marks the start of their commitment to this monumental initiative, all in alignment with the government's vision of a fully digitized, connected, and prosperous Philippines.